Looking for an accredited life coaching course? Look no further!
At The Life Coaching College, we provide life coach certification with our comprehensive life coach training courses. We can help you achieve your dreams of becoming a competent and qualified life coach.
Why Study Life Coaching?
Life coaching is a way to help clients achieve their desired goals by creating positive actions and habits. By completing the life coaching training in Australia, you can empower clients to reach their full potential and manage the personal and professional challenges they face.
Unlike counselling which focuses on analysing the past, life coaching focuses on the future and how clients can improve themselves and become their 'best selves'.
As a certified life coach, you will help clients to create a vision for their future and devise a custom-made plan to achieve specific outcomes in their lives. By creating a plan of action, you will work with clients to improve productivity, encourage self-discovery and personal growth. 
Life coaches help clients with issues such as obtaining work/life balance, managing transitions within their business as well as effective communication. 
Life coaching is the second-fastest growing profession in the world and is quickly gaining popularity across the globe. Your role as a life coach is integral in helping individuals maximise their potential and cope with any obstacles they may face.
Some of the accredited life coaching courses we offer include:
Duration: Self-paced (approx 6 months)
Practitioner of Coaching
The Practitioner of Coaching training provides you with the foundations of becoming a successful life coach and attracting your first clients using the 12-Step Coaching Model. It is the ideal life coach course for anyone seeking an introduction to life coaching, for those with limited time to study or for those wanting to develop their coaching skills for their current career.
More Info
Duration: Self-Paced (approx 12 months)
Diploma of Life Coaching
The Diploma of Life Coaching gives you everything you need to establish a sustainable life coaching business and be a transformational coach from anywhere in the world. You will receive an NLP life coaching certification and become a certified Conscious Hypnosis Practitioner.
In addition, you will attend a marketing summit and have a coaching website built for you.
More Info
Duration: Self-paced (approx 24 months)
Master Practitioner of Coaching
The Master Practitioner of Coaching encompasses all of the previous life coach courses into one incredible course with 45 days of face-to-face training.
It allows you to work with a variety of potential clients in a range of niches and provides you with the greatest possible opportunity to grow your coaching business.
More Info
Our Coaching Accreditations
The Life Coaching College is an accredited education provider by the International Coaching Federation (ICF). This means that we have the highest accreditation possible in coach training and our students are trained to the world standard.
All of our trainers are also accredited with either the NLP Association of Australia (NLPAA), the American Board of NLP (ABNLP), or the International Association for Neuro-Linguistic Programming (IANLP).


Upcoming Free Coaching Events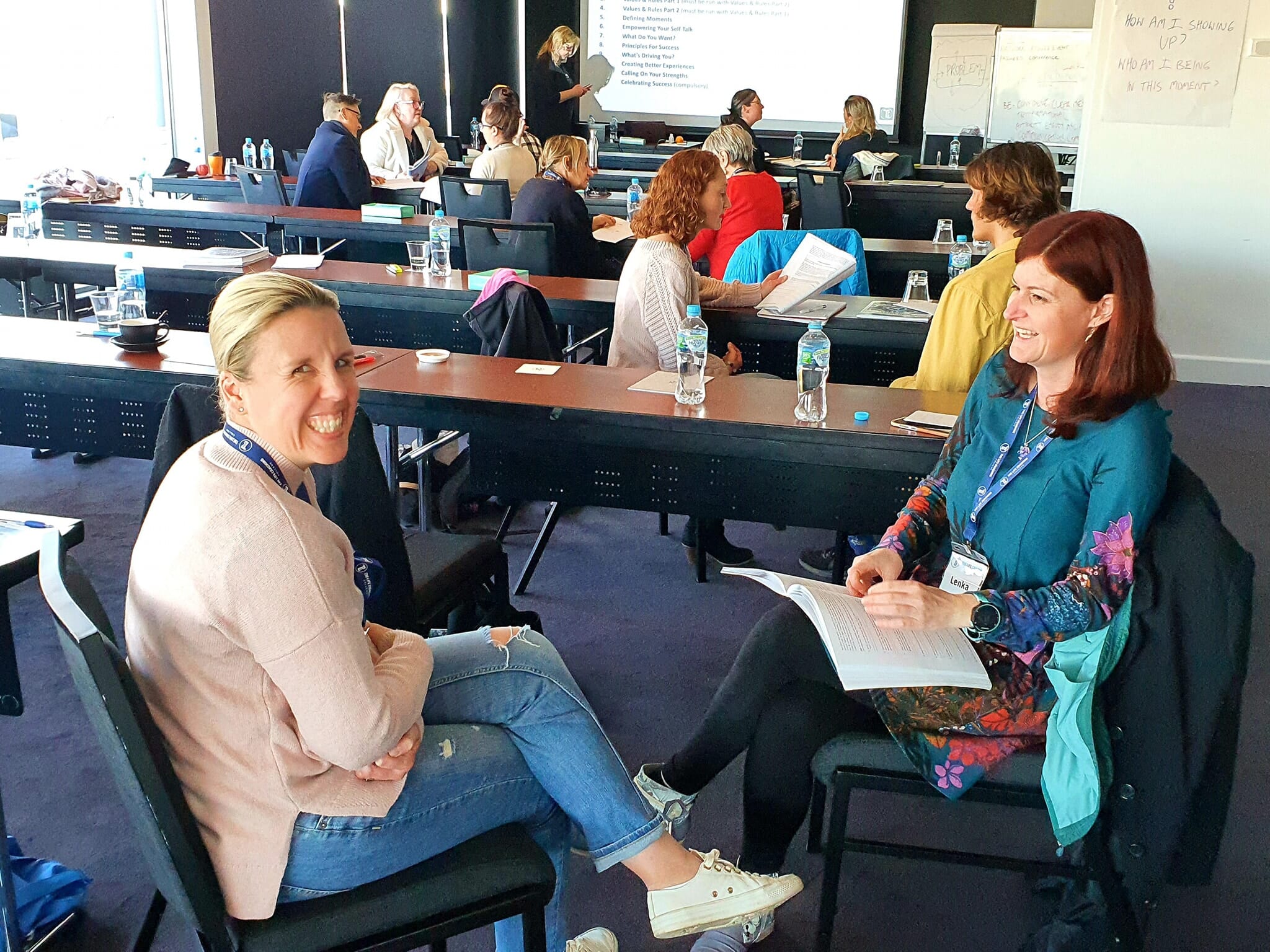 Our Learning Difference
At The Life Coaching College in Melbourne, we're passionate about fostering student success through experiential learning.
In all of our coaching courses, we combine theoretical coaching models with hands-on practical experience, so you can gain the skills and confidence you need to create your own successful life coaching business.
We also prioritise face-to-face learning because we believe this is the best way to accelerate your knowledge. In every training session, you'll be able to pick the brains of our world-class trainers, build relationships with other soon-to-be-coaches and practice coaching with real people and real situations.
%
of our students have experienced a life-changing personal transformation during their training
%
of our graduates have had paying clients (you cannot graduate without them!)
"Every new subject I took at The Life Coaching College, it was breakthrough after breakthough, layer after layer. I would think I would hit a peak, and then it would be another mind-blowing course."
Daniel Beeson | Master Practitioner of Coaching Student | Read His Story
"The sincerity and knowledge of the trainers left a lasting impression on me. Watching them teach, you could tell that they live the life they were speaking about and practiced what they were teaching."
Matilda Wand | Master Practitioner of Coaching Student | Read Her Story
"The standouts for me were the broad range of certifications within The Life Coaching College. You finish with many coaching modalities and styles as opposed to a lot of other coaching schools."
Sammi Johnson| Master Practitioner of Coaching Student | Read Her Story
Every course that I have completed with The Life Coaching College has changed me in some fundamental way. They have made me a better man, made me more confident in who I am and what I have to offer the world."
Sean Street | Master Practitioner of Coaching Student | Read His Story
"It's been an amazing 12 months since I joined The Life Coaching College. I have absolutely loved all of the face-to-face training and I have far exceeded all of my personal and business goals."
Mark Hamawi| Master Practitioner of Coaching Student | Read His Story
"The Life Coaching College has helped me to hone in on my business mindset and has put the fire in my belly to create a thriving parenting coaching business."
Karina Lane | Master Practitioner of Coaching Student | Read Her Story
Already certified and want to uplevel your skills?
Interested in a particular niche as a coach?
We offer a variety of speciality courses to sharpen your focus and hone your expertise. Whether you want to become an executive coach, a leadership coach, a kids coach, or something else - we have an expert-led course for you! Some areas of specialisation include business, ageing, work-life balance, wellness, spirituality and weight loss.
Read Up on Life Coaching, How to Become a Life Coach & More
Matilda Wand had a new home, a good job in mining that paid handsomely, and a handsome fiancé. Yet, she still found herself wondering if ...
Read More

→
Karina Lane learned many things from her time with prisoners, but perhaps the most important lesson was this: parenting really matters. On some level, the ...
Read More

→
Don't be fooled. While online courses make up a chunk of the coaching market and seem convenient — that doesn't mean they offer better outcomes ...
Read More

→
Launch your coaching career with The Life Coaching College
Do not miss the chance to have a positive impact on the lives of others and launch your own life coaching business.
We'll arm you with all the skills you need to do it!
Get started by getting in touch with us below by: